Introduction:
What Is LA Fitness?
LA Fitness is a chain of health clubs that operates over 700 fitness facilities throughout the United States and Canada. Chin Yol Yi and Louis Welsh created the company in 1984, and its offices are in Irvine, California.
This clubs offer a wide range of facilities, including cardiovascular equipment, strength training equipment, group fitness classes, indoor pools, and personal training services. They cater to individuals of all fitness levels, from beginners to experienced athletes, and provide a welcoming environment for all members.
Fitness Classes:
LA Fitness also offers a variety of group fitness classes. These classes are led by certified instructors and include popular programs such as yoga, Zumba, cycling, and kickboxing. Members can participate in as many classes as they like, and the variety of classes means that there is something for everyone.
Wide Range Of Equipments:
One of the main attractions of LA Fitness is its range of equipment. The clubs are equipped with state-of-the-art machines and equipment, including treadmills, elliptical machines, stationary bikes, free weights, and weight machines. This makes it easy for members to create a personalized workout routine that suits their needs and preferences.
Personal Training Services:
In addition to the fitness facilities, LA clubs also offer personal training services. These services are provided by certified trainers who work with members to create personalized workout plans that meet their goals and needs. Personal training sessions can be booked one-on-one or in small groups, and the trainers are available to answer questions and provide guidance and support throughout the process.
It also provides a range of amenities for members, such as locker rooms, showers, and saunas. Some clubs also have juice bars, cafes, and pro shops where members can purchase fitness apparel and accessories.
How To Create Workout At LA Fitness:
LA Fitness is a huge corporation with fitness centers across the United States. LA Fitness, like most franchise gyms, features an array of equipment for members to increase their physical capacity as well as cardiovascular fitness. Putting up a training routine is a critical step towards success. Fitness professionals are on hand at each location to assist you in developing an appropriate programme. You can also make your own programme.
Keeping Record Of Fitness Goals:
Make a list of your fitness plan on hand or on the computer. Make your goals specific, quantifiable, and time-bound. Keep your goals visible on your fridge or at your desk to help you stay on track.
Arrange a fitness assessment to establish your current level of fitness. Most locations provide new members with free body fat and cardiovascular fitness testing. To arrange your appointment, contact the private training department.
Using Fitness Equipments:
Fitness equipment should be tested for simplicity of use and should work all main muscle groups. Each LA Fitness center is unique in its design. Most facilities combine the upper and lower body equipment to allow members to create circuit-style workouts. If you are uncomfortable with a machine, ask a LA club employee for assistance. There is no fee to demonstrate correct equipment use.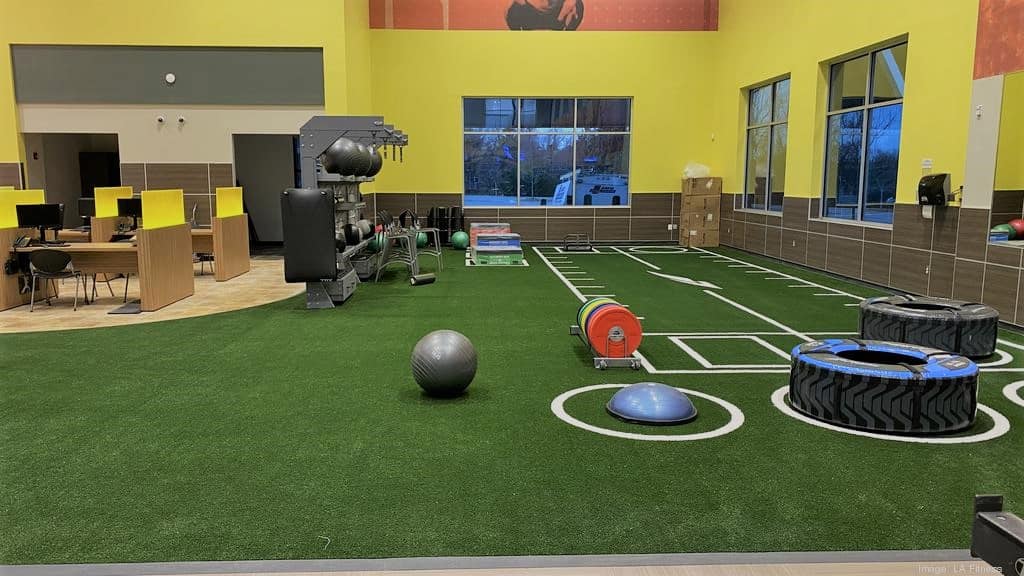 Getting A Workout Log:
Get a fitness log to help you keep track of your sessions and progress. To make the most of your time at the gym, plan and write down your routines ahead of time.
Review your workout log on a weekly basis to see how far you've come. Do a six-week follow-up evaluation to see how your heart rate and muscular fitness has improved. If you haven't dropped any weight or inches, seek the assistance of a LA Fitness trainer or a qualified nutritionist in your region.
How To Use LA Fitness Machines?
To satisfy your specific fitness preferences, the LA club facility features a mix of workout machines, cardio rooms, and free weight sections. With so many equipment possibilities, using the workout machines can be overwhelming at first. Anyone, however, can use LA Fitness machines during a workout after learning the basic operations and features. Before using fitness equipment or beginning an exercise plan, always see a physician.
Instructions:
Read the directions for the fitness machine. As a quick reference tool, LA club inserts instruction notes on the side of each equipment. Select equipment that is appropriate for your exercise objectives and personal capabilities.
Adjusting The Machine With Your Body Size:
Customize the fitness equipment to your physique and height size. Slide the seat and other adjustments along the rail by pulling the adjustment knobs; drop the lever to lock the position in place. Align the workout machine's pivot points with your joints.
Remove the weight stack pin and insert it into the proper weight selection hole to set the machine's weight. Begin with a modest weight and gradually raise it as you understand the exercise and gain strength.
Weight Adjustment:
Depending on the purpose of the activity and session, increase or reduce the weight in 5-pound increments. For example, if you wish to accomplish 10 to 12 reps during the set, select a weight that is tough to achieve for 3 sets but impossible to achieve after 12 repetitions.
Exhale while lifting and breathe as you reduce the weight. Good form and technique when utilizing LA club machines require adequate breathing.
On a LA Fitness workout journal, record the particular machine, seat and posture settings, weight used and repetitions. This log can be used to track your progress during your fitness routine.
Does LA Fitness Membership Worth It?
For most users, a LA Fitness membership is worthwhile, although it is largely determined by the caliber of your local club. These Fitness locations feature a lot of equipment and some nice amenities, however cleanliness, competence of the personnel, and overall gym care varies by location.
Pros & Cons Of LA Fitness Gyms:
LA Fitness, like other clubs, has advantages and disadvantages. The following are the benefits and drawbacks of a LA club subscription.
Advantages:
Reasonable Cost:
It's unusual to find gyms that charge less than $40 per month, but LA Fitness does. It's a terrific gym for someone on a tight budget who wants to use a range of strength tools, machines, and group courses.
Hot Tubs:
Even the nicer chain gyms with spa amenities, comfy chairs, even red light treatment lack hot pools. Many LA Fitness facilities do, and it's a great way to unwind after a strenuous exercise. Just ensure your site follows proper cleaning practices before sitting in one, and if you go in soon after a workout, rinse oneself off in the shower first.
Most Locations Allow Chalk:
I've only found a few chain clubs that permit chalk, so I was relieved to learn that LA Fitness allows.
Disadvantages:
Decor Is Old:
Most LA Fitness facilities aren't particularly modern, and the gyms are fairly basic. Even the LA club website appears to be trapped in 1998. This has no bearing on the gym, but it was something that stood out to me.
Cleanliness Varies:
Some Fitness club facilities are cleaner and more well-kept than others. The one I went to was just not dirty, yet there were dumbbells everywhere and not everyone scrubbed their stuff. It was upsetting that some of the individuals were rude and that the personnel did little to correct them.
How Much Does LA Fitness Membership Cost?
Multi Club:
The Multi Club membership is a month-to-month agreement that costs $34.99 per month plus taxes and a $49 initial charge. Also, there is a $49 additional charge.
You will have admission to your home club, all groups classes, sports facilities, sauna, and pool with this membership. You can visit practically any LA Fitness facility, however some are "signature" clubs that may not accept outside members.
When you first join, you'll have had to pay the entrance charge as well as your first and last months' dues, for a total of roughly $119.
Single Club:
The Single Club membership is for six months and costs $34.99 per month plus taxes. There is no startup cost, however there is a $49 annual fee.
You can only visit your current club with this membership. Once you pay your initial and final month's dues, the entire upfront cost is around $70.
Other Options:
Collective Membership:
LA club has corporate wellness programmes available. If your work contributes, you can receive a monthly membership at a reduced rate.
The Club Studio:
Certain LA Fitness locations have an additional membership option that makes it accessible to their Club Studio®. You can use this to enroll in LAF's HIIT classes.
LAF HIIT classes are elevated workouts that emphasize cardio, strength, and functional fitness. They use additional MyZone heart rate devices to track each user's progress and assist you stay in the desired heart rate zone for each segment of the session.
Club Studio® subscriptions cost around $125 per month, in addition to the basic monthly LA club subscription.
Gym Policies At LA Fitness:
When it comes to mask requirements, the Fitness club adheres to local regulations. Some clubs do not require masks at all, while others insist on them at all times. I recommend always having a mask on hand in case you are required to wear one.
LA Fitness uses touchless check-ins, and the apparatus is at least six feet apart if practical. Additional hand sanitizer is accessible all across the gym, and all elevated areas are cleaned many times during the day.
Cancellation Policy & Contract Length:
Fortnight and six-month contracts are available at LA Fitness. Some places have 12-month contracts as well.
You can terminate your LA Fitness membership by printing out a cancellation form online and handing it to the staff in person or mailing it to Fitness' corporate offices. If you mail it, I suggest sending it a postal letter so you can receive a receipt when the form is receive.
If your letter is postmarked or delivered five days earlier than your billing cycle, you will not be charge any additional monthly fees. There are no additional cancellation fees, however if you have a contract extension and wish to cancel early, you may be require to pay a portion of the outstanding dues.
Guest Policy:
You can invite one friend for free each time you work out when you have a Multi Club membership. If you want to invite a second visitor, you must pay an additional $20.
You could also have your guest complete a guest permit online before bringing him or her to the gym. When they arrive at the gym, your guest will require to sign a responsibility form and prove that they're at least 18 years old.
FAQ'S
Is there a pool at LA Fitness?
There is an underground lap pool at LA Fitness.
Does LA Fitness Have a Sauna?
Saunas aren't common features at LA Fitness, however they do exist in some locations.
Is there a shower and locker room at LA Fitness?
Bathrooms and locker rooms are available at LA Fitness. They do not give toiletries or towels, so you must bring your own.
The lockers are available to all members, however you are not permit to leave your stuff in them overnight.
Is there a basketball court at LA Fitness?
Basketball courts are available at LA Fitness. There are also racquetball courts. You might be require to pay a fee to use them on some sites.
Is there a smoothie bar at LA Fitness?
The NrGize Lifestyle Café is a juice bar at LA Fitness. Despite the slightly absurd name, there are some nice food items on the menu, such as smoothies and muesli bowls. Water, fruit, sports drinks, and other munchies are also available.
Can You Transfer LA Fitness Membership?
An LA club subscription cannot be transfer to another person. You can, however, change your successfully established online members portal or meet with a staff member in person to move your local club to another site.
Final Words:
The value of a LA Fitness membership is determin by the amenities and equipment available at a club near you. The place I visited did not impress me, however other sites may have superior equipment and facilities.
Memberships at LA clubs are reasonably price, and you get access to a plethora of machines and dumbbells, so if it's the only gymnasium near you, I recommend at least trying it out to see if it's appropriate for you.