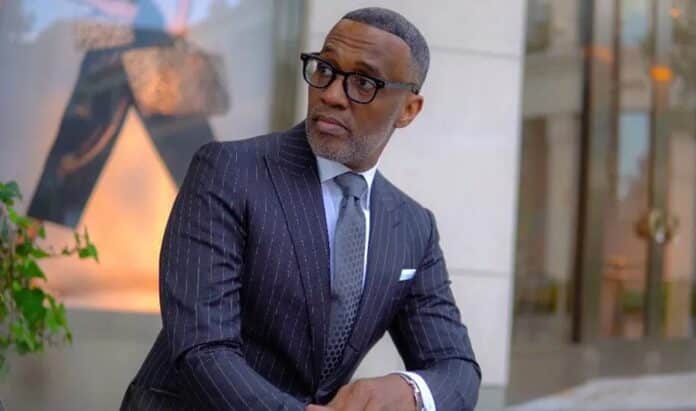 Kevin Samuels has achieved popularity throughout America because of his power to motivate and empower individuals with his fascinating speech. As the result of that Kevin earned himself a great respect and reputation illustrating his vast life experience. Kevin has become quite well-known for his insights and wise advice that are especially directed towards the black community.
In addition to providing advice on appearance and grooming, Kevin also exudes a great sense of style. He enjoys dressing in sophisticated and put-together gear and adopting a formal and polished demeanor. Everything about Kevin Samuels, including who he was, how he became well-known, his estimate net worth, his girlfriend, his family, and how he passed away, is covered in this article. Keep reading below.
Who Was Kevin Samuels?
American online celebrity and personality Kevin Samuels. He got famous through his social media presence and youtube channel. He became well-known for his clear, frequently polarizing advice that was mostly concerned with dating, interactions, and self-improvement.
Kevin Samuels became highly famous for his "High Value Man" concepts, where he highlighted the significance of men working towards their own achievement and raising their self-worth in order to draw successful and alluring relationships. He frequently offers straight feedback and criticisms during live consultations with people who are seeking his opinion on a range of subjects in his videos.
While Kevin Samuels developed a sizable fan base for his writing, he also came under fire for his direct and even antagonistic style. However, many viewers have found his videos and online presence to be compelling, especially those who are passionate about interpersonal dynamics, personal growth, and self-assurance.
Life History Of Kevin Samuels:
Kevin Samuels was born in Oklahoma City on March 21, 1969. He was a self-described image expert and American online personality.He had the chance to travel a lot as a child because his family served in the military. His exposure to many cultures and experiences influenced his perspective and improved his comprehension of the dynamics and behavior of people.
Kevin started a career in business after finishing his studies, focusing mostly on sales and marketing. In the commercial sector, he earned important expertise and information that subsequently helped him in his online efforts.
When Kevin Samuels first launched his YouTube channel in 2017, he concentrated on offering style and clothing tips. He developed a sizable following and gained fame as he changed his focus over time to providing love advice and self-improvement advice. His frank and even aggressive style of handling relationship difficulties caught people's attention and led to discussions among viewers.
Background Of Kevin Samuels:
American online sensation Kevin Samuels is from Oklahoma City, in the state of Oklahoma. Although his physical attributes frequently cause him to be labeled as African-American, he is actually of mixed ancestry. In interviews, Samuels revealed that while his father comes from a variety of backgrounds, his mother is African-American. He has started having Native American and European lineage, however he hasn't given any specifics regarding his father's background.
Given that Samuels occasionally uses his videos to demonstrate his fluency in Spanish, some observers have theorized that his father may possibly have Hispanic ancestry. Despite being of mixed ancestry, Samuels identifies predominantly as Black and has taken an active part in conversations about the Black community and the difficulties encountered by Black men.
Kevin Samuels' Walk Of Life:
Kevin's career first took off at Office Depot, where he worked as a manager and consultant for the chemicals sector. He was given this position inside the industry since he was value for his abilities to bring in clients for the business.
His employment at Office Depot paved the way for his entrance into the corporate world. Then, from 2009 to 2011, Kevin worked for renowned media business Super media. During his stay there, he spearheaded a thorough overhaul of the company's online sales presentation and advertising techniques, greatly boosting its attractiveness.
Transition To The Yellow Pages:
After leaving Supermedia in 2013, Kevin moved on to work at The Yellow Pages, an advertising company. He worked as a communications consultant, greatly advancing the company by utilizing his talent for captivating audiences.
Youtube Channel:
Kevin started his journey to influencer status by starting a YouTube channel. He started his channel on May 20, 2015, with modest success at first. But he started to acquire momentum and popularity in 2016.
His career as a YouTuber and internet superstar officially began with this. Through his YouTube channel, Kevin presented inspirational films and advice on how to live a stylish life, drawing in viewers who were not familiar with this type of material. As a consequence, his channel gained followers, which helped him become a YouTube sensation.
Social Media Appearance:
Additionally, Kevin provided advice on a range of cultural concerns via his shop, "The Life and Style, by Kevin Samuels." He offered guidance on lifestyle, fashion, and other pertinent issues.
Kevin created online services for consumers who couldn't visit his showroom in person because he understood the need for accessibility. In addition, he shared his knowledge with companies and brands, providing insightful advice to enhance their standing and financial performance.
What Were The Accomplishments Of Kevin Samuels?
Beginning his work as an apparel stylist and image consultant, Kevin Samuels aided customers in enhancing their sense of personal style and look. After establishing his YouTube channel in 2017, where he provides love, dating, and personal development advice, he rapidly rose to prominence and acquired wide recognition. Millions of people have seen his videos, and he now has over 1 million subscribers.
The Kevin Samuels Programme and "The High-Value Man Show" are two popular podcasts that Kevin Samuels has produced. His podcasts have a large audience, and his forthright and provocative attitude frequently incites contentious debates among his listeners.
Kevin Samuels has earned a lot of success and acclaim over his career. His works on love, personal development, and image consulting comprise "Image Fundamentals for Men," "The Truth Regarding the Black Man's Struggle," and "The Growth of Style."
Helping People To Develop Their Own Style:
Kevin Samuels has over thirty years of expertise as a fashion stylist and image consultant and has aided many customers in enhancing their sense of personal style and look. In addition to podcasts, he has also featured on shows like "Dr. Phil," "The Brilliant Idiots," and "The Joe Budden Podcast" where his work has been recognise. He has also been highlighted in magazines including The New York Times, GQ, and Business Insider.
Kevin Samuels' career as an American online sensation has produced notable accomplishments, a sizable fan base, and a considerable impact on the online content industry.
How Did Kevin Samuels Died?
Kevin Samuels who was a popular influencer, youtuber and great internet sensation died on 5th May 20233. His death looked to be caused by chest discomfort. He lost consciousness from the pain and soon after passed away. There was a woman staying with him, when he felt chest pain at his home. She made an emergency call right away, and Kevin was taken to the hospital.
Despite being quickly treat when he was taken to the hospital, the chest attack claimed his life.
Who Is Kevin Samuels' Wife?
Before death Kevin was living as single but he had two unsuccessful marriages. His ex-wives' names are unknown since he kept them a secret. His high school sweetheart served as his first wife. After one year of marriage, they got divorced, and a daughter was born in the early 2000s. About seven years later, he wed again, and they dated for three years before splitting up. The names of any of Kevin Samuels' marriages are unknown.
What Is Kevin Samuels Net Worth?
Kevin Samuels current net worth is around $3 million. Most of this worth is from his YouTube channel and different Tv shows.